Our 2018 Charity in Focus is ClimBing OuT!

We are absolutely Delighted that our 2018 Charity in Focus is Climbing Out!
Dyslexia Awards founder Elizabeth Wilkinson first heard Kelda Wood – who set up Climbing Out – speak at the 2016 Businesses for Children Awards; she then head Kelda speak at Shropshire Chamber of Commerce in April 2018. Elizabeth was instantly reminded how amazing and inspirational Kelda and her charity Climbing Out are; and she is sure that the 2018 Dyslexia Awards celebration evening guests, finalists, sponsors and judges will not only be moved by Keldas story and the work Climbing Out does, but inspire too!
We will be raising money for the Climbing Out Charity on the evening with a game of Heads & Tails, so be sure to bring some money with you to play and be in with a chance or winning £50! (Please be as generous as you are able to be!)
A little bit about Climbing Out!: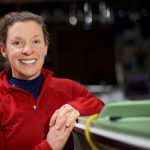 Climbing Out was founded in 2010 by Kelda Wood after she suffered a serious leg injury that had a huge impact on her own life. Kelda has gone on to represent Great Britain as a member of the GB Paracanoe squad, however, having just missed out on selection for the Paralympic Games in Rio, she was then selected as a member of the Adaptive Grand Slam Team who were attempting to climb Aconcagua, the highest peak in South America at 7,000m. On the 19th January 2017, she became the first recorded adaptive female to summit the mountain.
In December 2018 Kelda will be attempting to solo row the Atlantic with the aim of inspiring others who have been through life changing injury, illness or trauma, and to raise awareness that physical or mental trauma may be life changing, but it doesn't have to be life limiting. to find out more, follow and donate please CLICK HERE to visit the Row to Raise website.