Dyslexia Information Day Exhibitor
Hearing Dogs for Deaf People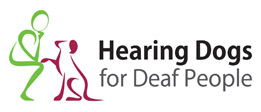 Contact: Enquieries - 01844 348 100
We train hearing dogs who transform deaf people's lives!
We have matched thousands of our adorable dogs with deaf recipients since our humble beginnings in 1982. At the moment, we have over 900 working hearing dog partnerships across the UK.
We make sure that, once a deaf person has been matched with a hearing dog,they are guaranteed a hearing dog for life. So when their first hearing dog retires at about the age of 11, they will be soon partnered with a new dog – and a lot of them keep their former hearing dogs as pets!
General enquiries
Text relay: 18001 01844 348100 (for deaf & hard of hearing)
Fax: 01844 348101
Website